Our new Hybrid DVRs accept three types of security cameras:
Analog Security Camera using BNC tipped RG59U cabling to provide video up to 960H Resolution
EasyHD Cameras using BNC tipped RG59U cabling to provide video up to 1080p Resolution
IP Cameras using RJ45 tipped CAT5e or CAT6 cabling to provide video up to 1080P Resolution
When adding IP cameras to these Hybrid DVRs you will need to manually change the camera type on the DVR, or to check whether your DVR is a Hybrid DVR model, use the following steps to determine whether it can accept EasyHD CVI cameras and the number of IP cameras.
Step1: Go to the Main Menu and Select Camera
After you have logged in as the admin user, from the Main Menu click on the Camera Icon.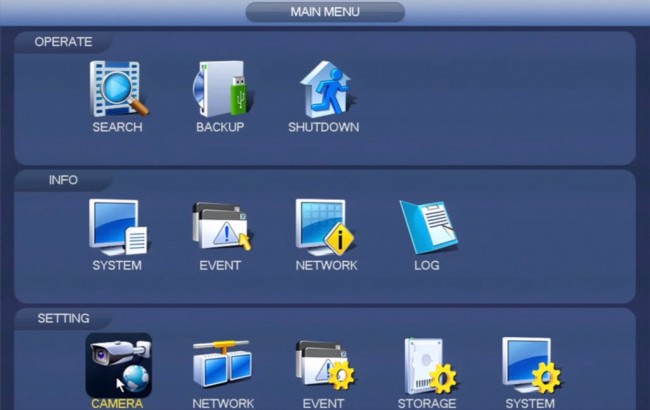 Step2: Select Channel Type
From the left hand options click on CHANNEL TYPE to pull up the menu below which displays in 4 columns the types of cameras supported. Notice that the HD Over Coax cameras are labeled as HDCVI in short form. There are two sub-columns for this type. Always select COAXIAL for the EasyHD CVI cameras regardless of whether you are using coax cabling or video baluns.
The third and fourth columns are labeled Analog and IP respectively. From this table you can select which kind of camera is being used for each channel type. If you are adding IP cameras you will need to add them in backwards numerical order from the last channel. So in our DVR example, we would click on the box under the IP column for Channel 16. Further, notice that there are greyed out boxes under the IP column for channels 1-15. They are greyed out or disabled because those channels are currently occupied by either analog or EasyHD cameras. To free up further IP channels, you would need to disconnect the camera connected via BNC from the DVR and restart the DVR. Then the box will become available for that channel under the IP column.
You can also change channel types from analog to HDCVI while the camera is still connected on the BNC port of the back of the DVR. This way you can force the DVR to change channel type.
Lastly, we can tell from this snapshot that our DVR supports analog or EasyHD cameras on all 1-16 channels. If you have a hybrid DVR you will see both columns with available checkboxes, i.e. Analog and HDCVI. The number of IP cameras supported depends on the model of the DVR. The greyed out boxes will indicate how many IP channels are supported.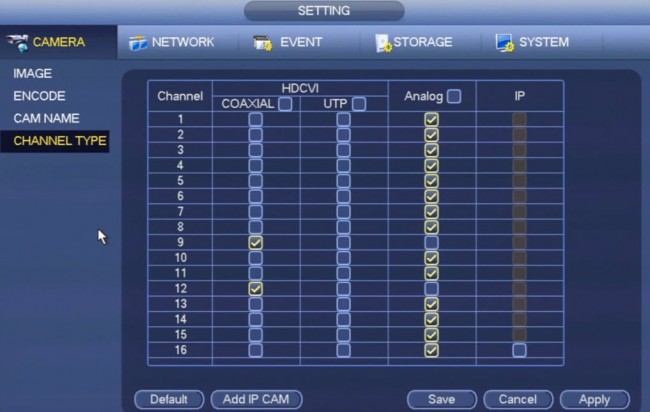 Step3: Apply Changes and Reboot
After you have made your changes, click Apply and Save, and click OK to reboot the DVR.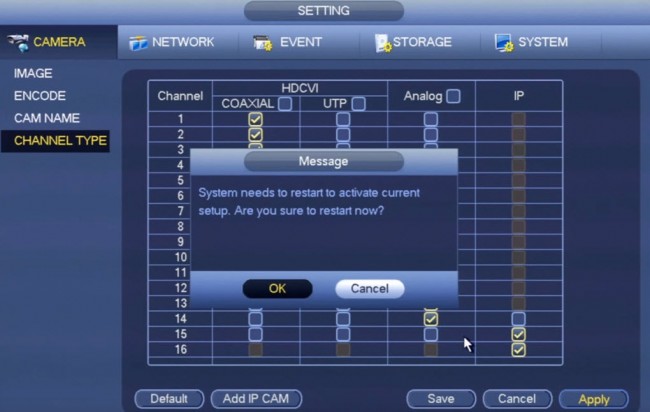 Sales & Technical Support Specialist
at
123CCTV
Anthony is a graduate of the University of Buffalo and loves tinkering with computers and is an avid programmer. At 123CCTV he provides Pre- and Post- Sales Technical Support, and is our staff writer who loves to review and test the latest security cameras. Connect with Anthony via:
Google+
.
Latest posts by Anthony Berlin (see all)